Please sign in so that we can notify you about a reply
Thermo-Rite is currently in the process of overhauling their entire product line offerings, and many items may not be available for purchase. Please contact us with questions for the latest news on these products.
Thermo-Rite Z-Door Stock Zero Clearance Fireplace Door Preway - PR71
Thermo-Rite Z-Door Stock Zero Clearance Anodized Aluminum Fireplace Enclosure
Brand: Preway
Manufacturer's Model Number: BI36B
No Air Spaces on Sides
The Z-Door is a sleek, full-framed, tarnish free anodized aluminum enclosure with a 7/8" wide frame. It is available as an inside fit only. Air space is allowed on the sides, top, bottom or combination to provide the same air flow as the manufacturer of the zero clearance fireplace.
*Additional Frame Finishes Available:
Textured Black, Bronze Iron, Brown, Chestnut, Copper, Gold Antique, Grey Iron, Moss Iron, Natural Iron, New Rust, Old Copper, Old Iron, Pewter, Rust, Silver Antique. Please allow extra time for delivery on these special finishes. *Painted Finishes are Non-Returnable.

Click to see Thermo-Rite Z-Door Stock Zero Clearance Fireplace Door Specification Sheet

Click for Measuring Instructions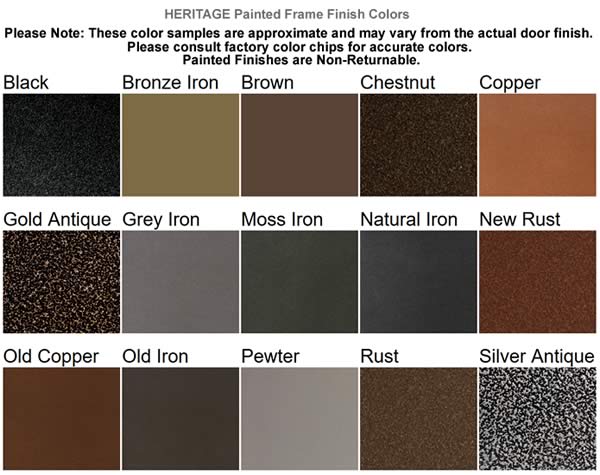 California residents please click on the link for information on Proposition 65 BEFORE purchasing.
Manufacturer:
Thermo-Rite
Supply chain disruptions have greatly impacted inventory levels in our industry, as well as in many other organizations across the globe. We want to personally acknowledge these shifts in supply levels have affected our ability to surpass your expectations in many situations for prompt delivery of your order. Should you not be able to wait for supply delays, please contact us about stock levels before ordering. As always, we thank you for your business!