About Us
WoodStovePro.com has one of the best selections of high quality electric fireplaces, wood stoves, gas fireplaces and accessories from top name manufacturers.
Don't see it? Ask us.
We offer other great hearth products that are not currently listed on our website. Please call 1-888-418-0005 or e-mail us to see if we have what you are looking for. We are constantly adding more quality products to expand our inventory.
Hassle-free shopping and easy searching
If you have specific items in mind, simply type in a few key words such as electric fireplaces, wood stoves or the SKU / Model Number into the search box at the top of the page. We have optimized this feature to make your experience quick and easy! Be sure to tell your friends about us and bookmark this page to stop back often.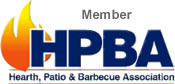 Hearth, Patio & Barbecue Association (HPBA) is an international not-for-profit trade association first established in 1980 to represent and promote the interests of the hearth products industry in North America. In 2002, the Hearth Products Association (HPA) merged with the Barbecue Industry Association (BIA) to form HPBA. The association includes manufacturers, retailers, distributors, manufacturers' representatives, service and installation firms, and other companies and individuals - all having business interests in and related to the hearth, patio, and barbecue products industries.
One of the best ways to identify a competent specialist is to check their credentials. The National Fireplace Institute®, an independent, non-profit certification agency, has created the standard for certification in the hearth industry. Only those who pass a rigorous examination covering fundamentals of proper installation receive NFI Specialist Certification. NFI Specialists who have earned all three Certifications are recognized as Master Hearth Professionals (MHP). Check out our NFI Master Hearth Professionals page for more information.

Whether you're looking for pellet or wood stoves, gas or electric fireplaces, chimney pipes, or wood furnaces, WoodStovePro.com has the products you need from manufactures you can trust.
Shop our other E-Prosites family of stores: